MECH-POWER GENERATOR PTE LTD
Our Facility
To meet growing demand MechPower moved to a new production facility in August 2012, doubling the total land area to 150,000 sq.ft. The factory is located in Senai, Johor, Malaysia approximately 30km from Singapore with over 50 staff employed.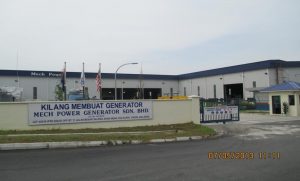 Testing Equipment
Mech-Power testing facility is fully equipped to conduct load testing and function testing of generator set for both Low Voltage and High Voltage power.
1 unit 2.5 MVA, 415V resistive load bank.
1 unit 2 MVA, 690V resistive load bank.
1 unit 1.8 MVA inductive load bank.
1 unit 2.5 MVA, 415V reactive load bank.
2 nos. 2 MVA 6.6/11kV transformers.
Data logger for continuous monitoring of power quality and transients for extended periods 24 hours or more.
Maintenance Team
As a system integrator and solution provider, we believe in providing services to our customers and our fully trained in house service engineers and technicians provide emergency calls as well as maintenance services to the clients when they need it.